Hi! My name is Christen
and I have a passion for developing inspiring designs.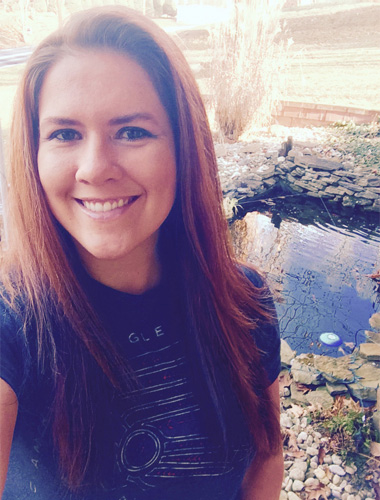 For me, being creative isn't just a job… it's a way of life. I'm a 24-hour, living, breathing, designing machine! With a hot cup of joe and a Mac at my fingertips, there's no stoppin' my mind's creative juices from flowin'. From concept through completion, I am dedicated to providing the best and most inspiring designs possible.
Software Proficiency
Graphic: Photoshop, InDesign, Illustrator, Acrobat, MS Office
Web: Dreamweaver, Responsive HTML/CSS, WordPress, MailChimp, Social Media
Video: Premiere Pro, After Effects, Audition
Photography: DSLR, Lighting, Green Screen, Photo Editing
MY EXPERIENCE
The majority of my 18-year career was spent as the Senior Graphic & Web Designer at Guardian Protection Services for their in-house Marketing department. For 8.5 years, I primarily worked on customer-facing material for existing customers or for lead generation in the form of various print and web materials. I was also in charge of developing internal employee-related material such as company newsletters, sales banquet material, and intranet content creation. I worked directly with other internal departments, managers, directors, executive staff, and the CEO of Guardian. It was an advanced career-building experience that grew my skills and knowledge of working in a corporate environment.
Currently, I work for a local, family-owned design agency, Studio 2 Advertising, as their Marketing Director and Senior Designer since 2013. The difference here versus a corporate job is the clientele can be vastly different from one another which makes each day different and exciting. You learn the various likes and styles of each client which allows me to expand and grow my creative design skills. Not every client wants that "corporate" look. Some want a more fun approach or even a whimsical look which makes each design interesting to create.
Pursuing a career in graphic design is one of the most rewarding things I have ever done. With nearly 20 years of experience (and growing), I have designed just about everything from logos, flyers, brochures, catalogs, trade show booths, print ads, billboards, outdoor signage, vehicle wraps, responsive websites, e-commerce stores, mobile ads, tv commercials, promotional videos, photoshoots, and much more. Every day I learn something new and enhance my craft. From brainstorming all the way through completion, I've gained exceptional attention to detail, excellent communication skills, and superior project and time management skills.